The Crew
Hello and thank you for visiting my shop! My name is Julie. I live in Beaufort, a small (but growing) town on the coast of North Carolina, with my husband, two cute dogs, and two chonky cats. I have a full-time career but in my spare time I love running with my dog, going out in the boat, relaxing on the deck, spending time with friends, and embracing my crafty spirit through my home fragrance business. All of the products on my website are handmade with love right here in my kitchen! I also love to read - Stephen King is my favorite author and I've ready the Harry Potter series at least 6 times. My celebrity crushes are Vince Gill and Dolly Parton. 
This is my trusty assistant, Rubie! She follows me around making sure each product is top-quality and worthy of going out to our customers. 
About Our Brand
The inspiration for creating this brand came from a very special place. I'm from a little fishing town called Stacy, North Carolina. It only has a couple hundred residents (maybe less), a few churches, two stop signs, and exactly zero businesses. Growing up I spent a lot of time on "the Banks" which is a barrier island just off of Stacy. There's not a lot to do there except take in the scenery, ride around, and fish, but it's so beautiful and serene and it's one of my favorite places. You can stand on top of a sand dune and see both the Atlantic Ocean and Core Sound, which is how I got the name Sound to Sea.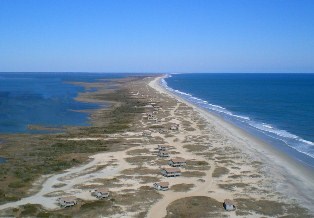 Everything in my shop is handmade by me in Beaufort, North Carolina. Please email me at hello@soundtoseacandleco.com if you have questions or if you're interested in a large or custom order. I also wholesale to several local businesses and I'd love to work with you on a custom fragrance or product line!
Things We Love
I've grown up on the coast of North Carolina and lived here my whole life, so preserving our coastal heritage is very important to me. Starting in November 2021, we are donating 10% of our profits to the North Carolina Fisheries Association. NCFA is committed to supporting commercial fishermen and making sure North Carolinians continue to have access to fresh, locally caught seafood. Several groups have been working hard to shut down small commercial fishermen in our area. Sound to Sea Candle Co. is proud to be supporting the preservation of commercial fishing in North Carolina. 
Read more about North Carolina Fisheries Association and their mission
here
. You can also donate
here
.